Digital Wayfinding Signages: Have you ever found yourself in an unfamiliar place? Maybe it's your first time visiting your college friend's hometown or a massive healthcare facility. In these situations, you are likely going to find yourself lost.
Despite our emerging dependence on GPS, they do not necessarily help you navigate public facilities, nor do they tell you what direction to take. We need our modern yellow brick road — digital wayfinding signages — to reach our desired destination.
Wayfinding signs are for information, direction, and guidance for people unfamiliar with the twists and turns of a particular public place. You may have encountered them in airports, university campuses, shopping malls, and museums. But you may be more familiar with the analog version, so what about the digital?
What is a Digital Wayfinding Signage?
Digital wayfinding signages are commonly self-service kiosks that use touchscreens to provide information for directional support. These displays are usually on wall-mounted signages or freestanding kiosks.
They are large, so people can easily find them instead of using tablets or smartphones. Moreover, the size presents relevant information in full view better so many people can access it simultaneously.
You know a wayfinding system is well-designed when it leads you to understand your environment and fill in the information gaps you have about the structure of the place.
The system is meant to provide users with an easy-to-follow route and familiarize them with their surrounding area. It usually incorporates arrows or color indicators to better guide the people who need it.
There are different digital wayfinding systems to better inform you on what type you may encounter on your errand runs. Here are some of them:
Digital directories
These are inexpensive wayfinder signs that display a graphic layout of a building. They highlight the facilities or departments on particular floors, so they are helpful on campuses.
There are also options to generate a dynamic QR code for the visitor to access on the go.
Interactive wayfinding solution
When you think of digital, you think of interactive displays, which is likely what comes to mind. Interactive wayfinding solutions let visitors interact with a screen and lead them from point A to point B.
This is more commonly found in shopping meals wherein you can look up stores or restaurants you want to visit. Then, you will be provided with a visual demonstration of how to reach your desired destination.
There are also 3D wayfinding signages that you can find on university campuses. These types of signage tend to contribute to an establishment's brand image.
Portable wayfinding signage
Contrary to the large sizes of the two wayfinding signages mentioned above, this one is activated by a QR code, and you can take this wherever you go. You can find some of these in public parks or sizable companies with much foot traffic. This enables users to follow the maps on their phones and not struggle to find a kiosk or signage in the crowd.
What Spaces Use Digital Wayfinding?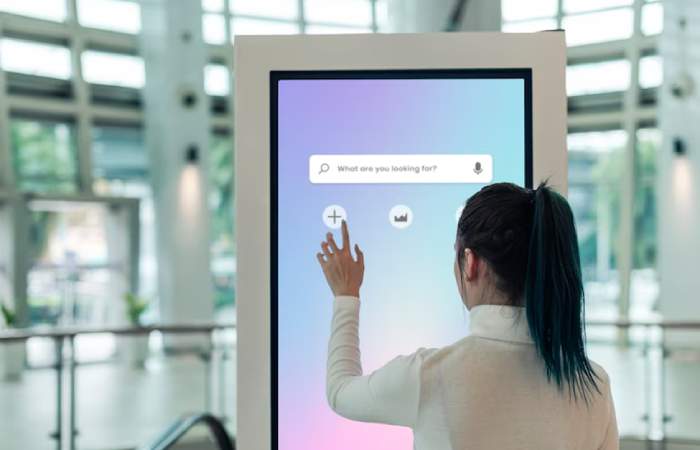 Digital wayfinding signages have become the standard, so various spaces have them at their disposal. Moreover, since they contribute to engagement and satisfaction, many organizations are setting up digital wayfinding signages.
Healthcare
Hospitals are already intimidating as it is, so utilizing digital wayfinding in such establishments removes the added fear of getting lost. It helps not only the patients but also the caregivers and new employees leading to a more structured system of medical assistance.
Airports
One of the facilities that use digital wayfinding are airports since they are large and can be pretty confusing to navigate on your own. With the use of a wayfinding system, travelers report less stress in navigating the place and less likelihood of missing their flights.
Government buildings
There are multiple rooms or even buildings in government institutions to lead people to go to the room or building they must be in.
Shopping malls
Digital wayfinding signages are seen in certain places in shopping malls to assist customers in pinpointing the stores, restaurants, or services they wish to visit. These signages also help to familiarize the mall layout, which could increase the likelihood of them returning.
Benefits of Digital Wayfinding Kiosks or Signages
Digital wayfinding has gone as far as we could imagine, and people are heavily relying on it these days. Here are some of the benefits you can get as you make the most out of this innovation.
Saves time
There are many advantages to the wayfinding system. First, you get to save time. Instead of asking around a healthcare facility, you can access the wayfinding system or look at the signages. With this, you get to reach your appointment in time!
This advantage also applies to companies, especially among prospects or new hires. They can use the signage instead of asking other employees. In turn, this could lead to better productivity for everyone.
Keep visitors safe and satisfied
Not only do wayfinding kiosks save time, but they also give accurate information to tourists. This would lessen the complaints about the complexity of navigation in the area and translate to satisfaction. It will provide visitors with peace of mind, which may increase the likelihood of people coming back.
Avoid congested places
Without signage, people will likely have a floor manager to manage crowds. In line with this, it may lead to congestion in high-traffic places. It could lead to visitors feeling confused and upset about the group and their unanswered queries. This could then affect the image of the facility or the city.
Conclusion
Wayfinding systems are imperative in public spaces. They are simple additions to people's lives that could lead to less frustration and better visitor experiences.