When a company invests INR 100 in an influencer marketing campaign, they get INR 400 back through engagement and sales. This is how powerful influencer marketing is. Do you want to get the hang of influencer marketing? Are you still stuck on what kind of influencer to pick for your brand? Read on, we have all the answers!
Simply put, an influencer is someone who has the power to affect others. Influential people work with brands to promote products and this entire trail is termed as influencer marketing.
Influencer marketing first appeared in the form of celebrity endorsements. However, in the modern digital era, specialist social content producers can frequently provide brands with additional value. On social media, these people have devoted and active following. A person who uses social media to influence others is known as a social media influencer. Influencer marketing is when you employ an influencer to market your goods or services.
It has taken over the digital world by storm. Brands big and small are hopping on to the influencer bandwagon. Hiring an influencer marketing company may be your best bet if you want to leverage this latest marketing channel. But before you hop on to this trend, it may be wise to understand the different kind of influencers out there, so you make an informed choice for your brand.
Fun Fact – 82% of consumers make purchases through influencer reviews.
5 Types of Influencers You Need to Know About
Nano Influencers (1k-10k followers)
Micro-influencers (10k-100k followers)
Macro-influencers (100k-1M followers)
Mega-influencers (1M+ followers)
Influencers based on niche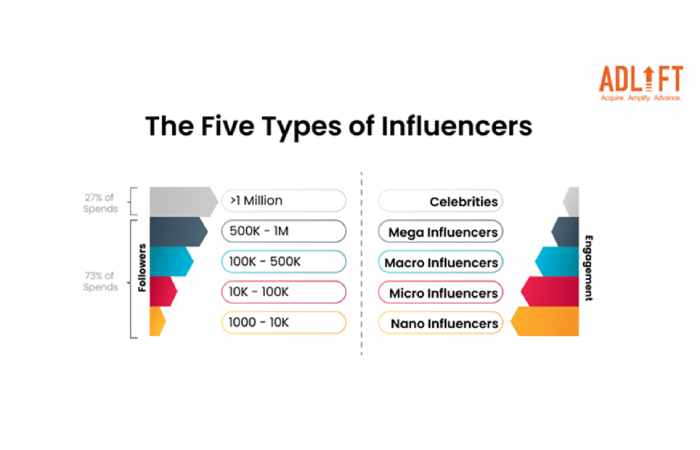 Nano Influencers (1k- 10k followers)
Followers are between 1k to 10k
Engagement is extremely high
Trust between followers and the influencer is strong
Nano influencers are great for small businesses, as they don't charge much and agree to barter collaborations. Nano influencers are the starting point of influencer marketing for startups.
PS- Don't get fooled by fewer followers; your brand can make immediate sales with the right nano influencer.
Micro-Influencers (10k-100k followers)
Followers are between 10k to 100k
Engagement is high, even with a large audience
Mostly these influencers have a niche around which their content revolves (e.g., yoga, skincare, lifestyle, etc.)
Micro-influencers are best for people who are sure about what kind of outcome they wish to see; choosing the right influencer for your brand is important.
Did You Know? 
More than 75% of people are more dependent on influencer reviews than online ratings of the product.
Macro Influencers (100k- 1M followers)
Followers are between 100k- 1 million.
Macro influencers have been in the game for years, and though the following is in thousands, the engagement might be less.
These influencers are mostly bloggers/vloggers/YouTubers.
Macro influencers have a huge following, which can give your brand a kickstart, to make your brand more visible- constant ads are advisable.
Mega Influencers (1M+ followers)
Followers are more than 1 million.
Mega influencers are celebrity figures (athletes/actors/singers).
A high budget is needed to work with mega influencers.
Mega influencers are ideal for brands already doing well in the market since the audience relates to brands they have seen or heard before.
Influencers Based on Niche
These influencers are chosen based on a specific niche.
If your brand and the influencer have a common denominator, that can catch your potential lead's eye.
For example- choosing Ronaldo to sell your guitar might look funny, but choosing Taylor Swift to sell your guitar will catch many more eyes (without getting into a meme war).
Different niches can be fitness, travel, lifestyle, fashion, etc.
Brands nowadays have a separate budget for influencer marketing.
An influencer marketing company is like a broker for all small/big brands, as they have a good hold on which influencer can work best for a specific brand. Depending on your brand's goal, they make a full-proof plan and cater accordingly.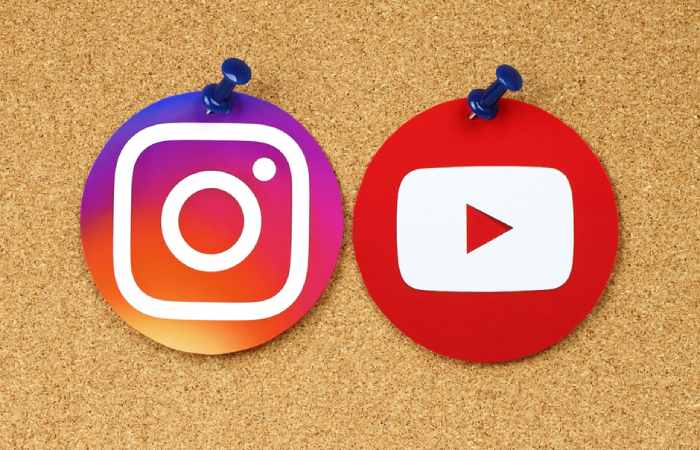 Platforms through which most leads are generated in India
When it comes to lead generation, social media might not be the first thing that comes to mind, but it should be. Businesses benefit from social media's effects on branding and sales leads since they may reach a larger audience for a relatively low cost. Businesses that use social media lead generation methods and advice are likely to get greater results at every stage of the funnel, from increasing sales to enhancing brand awareness. A significant portion of 84% of C-level executives and 75% of B2B buyers' decision-making processes now include social media.
Let's check out a few popular platforms that manage to generate incredible leads and are pretty much in vogue among people:
YouTube renders a great influence over their audience. Since viewers, particularly those in the younger demographic, can relate to the authenticity of user-generated material, YouTube is the third most popular website worldwide.
Since Instagram launched Reels, the whole marketing game has changed for the brands and influencers. Innovation and creativity are breaking bars.
Snapchat/ Twitter/Pinterest/Facebook
These platforms are less used, but a community can be easily built on these as well.
In a nutshell, if a brand wishes to be in the business for the long run, it needs to have a plan. Though the initial investment might cross the limit, it will be worth it for a better brand future.
Let's play a small game! Look around you- your gadgets, clothes, skincare, the colour scheme you have in your room, your TV, the cologne you use. And now, think back to what made you buy that item.
It's almost scary, right? How influenced our daily lives are by the internet. But if taken in a positive manner, it can relevel your brand game.
If you want to benefit from influencer marketing, all you need to do is to hire an influencer marketing company. One such company is AdLift that can connect you with the right type of influencer. Visit their website today to know more about their services.